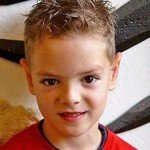 Boys in Madison want haircuts expressing who they are.
Moms want a good looking haircut that are easy to manage and help get their boys out the door and off to school in the morning.
A great, low maintenance boys haircuts strategy has the following elements:
A trim cut around the back and sides
Texturizing the top, including

Flat top
Faux hawk,
Mohawk
Long bang
Spike
This boy haircut strategy is a solid choice for back to school, the holidays and spring as well. It looks good and is easy to maintain.
Having the right products – depending on the cut – will help ease the morning rush. For example
Gel – if you have a spike hairstyle, gel makes it quick and easy to look perfect
Conditioner for taming longer hair. Be sure to have the right conditioner for your hair and hairstyle.
Pomade – style with a squirt – using your hand to shape your hair is quick, easy and stylish.
Please give us a call if you want to discuss the options that will work best for your son. We see a lot of heads and can give you a variety of ideas you may not have considered.